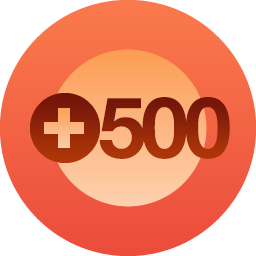 WordPress even sent me a notification with a 'badge' to make it official 😀
500 followers – Cor Blimey!!!
My insights page tells me my blog has had 12,600+ views *faints* and a wopping 2000 of them just since April. Blimey. I know my blog is only ickle compared to a most others. I am just a teeny tiny drop in the blogosphere, but I am totally bowled over by the fact that people click that follow button, read and comment or like what I post. I never, in my wildest dreams imagined numbers like this.
You guys probably don't realise how much you have kept me going through the last 15-18 months through some of darkest days I have ever been through, which is when I really started blogging properly. I have met some wonderful people, made new friends and been able to share both laughter and sadness via your blogs, as well as gained much support, comfort and friendship from your input here. And giggles – can't forget the giggles 😀
So THANK YOU for every view and every click ((((((hugs)))))))